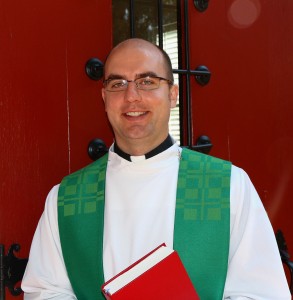 Born and raised in Nebraska, Pastor Adam received his B.A. in religion from Gustavus Adolphus College in St. Peter, Minnesota in 2004. He received a Master of Divinity degree from the Lutheran School of Theology at Chicago in Chicago, Illinois in 2008 and was ordained on August 3rd of the same year. Pastor Adam spent his internship year of seminary in Cairo, Egypt.
Pastor Adam has served congregations in Nebraska and western New York, and for this past year was the Assistant Chaplain and Director of Religious and Spiritual Life at Elon University.
Pastor Adam and his wife, Jordan, also an ELCA pastor, live in Durham with their Golden Retriever, Filo.
By the grace of God and the work of God's people, together we will continue to discern who God calls us to be and what we are called to do!