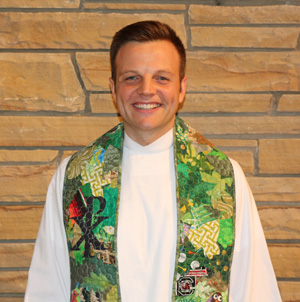 Baptized in the NC Synod at Holy Cross Lutheran Church in Lincolnton at just 2 weeks old, Pastor Goeres has completed a circuit through both Carolinas and Virginia over the first few decades of life. He is glad to claim all three states as "home." Pastor Goeres received a B.S. in Mathematics from Roanoke College in 2006, a Master of Statistics from NC State in 2008, and a Master of Divinity from Lutheran Theological Southern Seminary in 2014. Directly out of seminary, Pr. Goeres served a 1-year term call to Augsburg Lutheran Church in Winston-Salem as associate pastor and Shiloh Lutheran Church in Lewisville as pastor, and related on a monthly basis to Church of the Good Shepherd Episcopal-Lutheran Parish in Galax, VA.
Pastor Goeres lives with his wife Lindsey in Winston-Salem, where Lindsey is completing her residency training in family medicine at Wake Forest Baptist Hospital.
Pastor Goeres is thankful for both the incredible richness of the Christian Tradition and the constant creativity of God's Spirit in the world. He is energized by (re)discovering as a church what it means to live as a sacramental community in Christ.